We developed Japanese to English Instrument Cluster (Speedometer) conversions in selected models of Toyota, Lexus, Mazda, Honda, Nissan.
We can extract and transfer data from failed / damaged Instrument Cluster to the donor one. We have surplus of Speedometers for sale.
We do Japanese to English Head Unit conversions in selected models, e.g. Nissan Leaf, Mazda,  Mitsubishi.
We provide service in person in Auckland, New Zealand. For our regional clients in New Zealand, Australia, UK and Ireland we use courier service.
To convert Cluster from Japanese to English – it has to be at our LAB in Auckland.
By prior arrangement we could courier pre-converted  cluster to you first and reimburse your deposit after you returned your cluster in the working order, undamaged and within agreed time frame.
In New Zealand call us on mobile or WhatsApp 0279722088  We do not respond to mobile TXT
Watch videos on our YouTube channel
Nissan: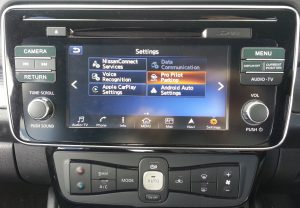 Nissan Leaf ZE1 Head Unit Upgrade to Android Auto and Conversion to English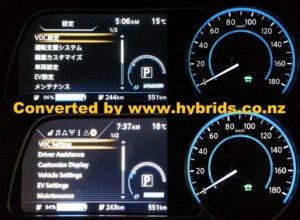 Nissan Leaf ZE1 Dash Conversion to English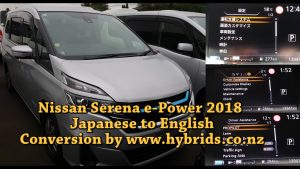 Nissan Serena e-Power Hybrid Dash Conversion to English
Nissan Serena C27 Dash Conversion to English
Nissan Serena C26 Dash Conversi0n to English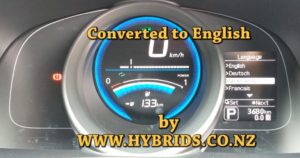 Nissan e-NV200 Dash Conversion to English
Nissan Connect Head Unit Conversion to English
Nissan Carwings Head Unit Conversion to English
Nissan Leaf ZEO & AZEO Dash Conversion to English
Toyota: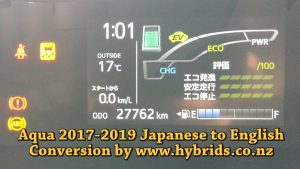 Toyota Aqua Facelift Dash Conversion to English
Toyota Aqua Facelift Dash with LDA Conversion to English
Toyota Aqua – taking dash out guide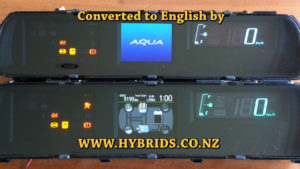 Toyota Aqua Dash Conversion to English
Toyota Auris Hybrid ZWE186HDash Conversion to English
Toyota Axio / Fielder Hybrid NKE165 Dash Conversion to English
Toyota CROWN Hybrid AWS210 pre-restyle Dash Conversion to English
Toyota CROWN Hybrid AWS210 restyle Dash Conversion to English
Toyota Harrier Hybrid AVU65W Dash Conversion to English
Toyota Sienta Hybrid & Gasoline NHP170 Dash Conversion to English
Toyota Vitz NHP-130 Dash Conversion to English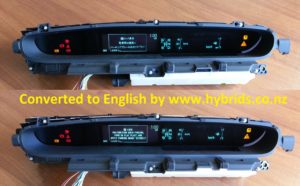 Prius ZVW30 Dash Conversion to English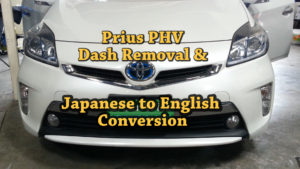 Prius PHV ZVW35 Dash Dismantle Guide for ZVW30/35
Honda:
Honda FIT Hybrid GP5 Dash Conversion to English
Honda FIT / Shuttle Hybrid GP6 Dash Conversion to English
Honda Grace Hybrid Dash Conversion to English
Honda Vezel Hybrid Dash Conversion to English
Honda Jade Hybrid Dash Conversion to English
Honda Fit eHEV Digital Conversion to English
Lexus:
Lexus IS-F Instrument Cluster (Speedometer) and Head Unit Japanese to English Conversion
Lexus IS-F Restyle Speedometer Conversion to English
Lexus IS350 Head Unit Conversion to English
Mazda: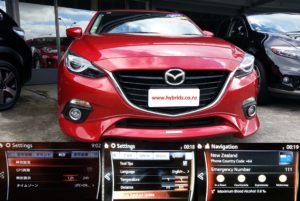 Mazda Navi Conversion + FM + Android Auto + Apple Carplay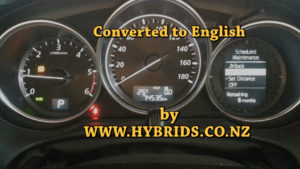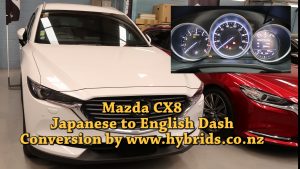 Mazda CX-8 Dash Conversion to English
Mazda CX-5/8/Atenza Digital Speedometer Conversion to English
Mitsubishi:
J02-J06 Mitsubishi Outlander Head Unit Conversion to English
Hyundai:
We can also convert MPH to KMH in Hyundai Ioniq EV (and disable TPMS if needed):